I'm starting to hear more buzz about Apple's newest product:  iPhone 4.  It has over 100 features.  The ones I've heard about the most include switching between different apps on-the-fly, longer battery life, flash photography and an additional camera in the front for face-to-face video chat.
It started to make me think about the phone that I have:  The HTC Dream.
Google's Android OS
I remember a few years ago, there was talk about Google working on a mobile phone OS called Android. It is free, open source and has no licensing fees.  It is also Linux-based.  Anyone can grab the source code and make modifications to it.
I'd like to say that I am a huge fan of Google and their products.  Ever since I discovered the search engine, I've always been fascinated by how they can simplify things and still find a way to make it free and still find a way to make money from it.  I even found an old YouTube video of someone demonstrating the potential of this new OS: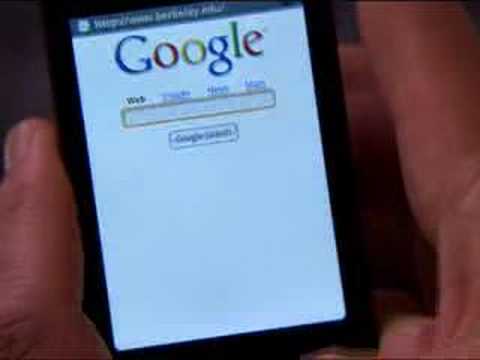 Android was very different before being released to the public.
After looking at this video, I realized something:  It's another OS war! It's Apple's iPhone OS vs. Microsoft's Windows Mobile vs. Blackberry OS vs. Google Android.  Eventually, the Open Handset Alliance was formed and they are now responsible for the continued development of Android.  Google still has ownership over the Android trademark.
The HTC Dream
At the time when this phone was announced, I had a beaten-up Sony Ericsson K510a.  It was very tiny with no 3G features whatsoever.  There was only a number pad for dialing and a joystick for navigating which broke through repeated use.  Basically, the phone was almost useless and I wanted a new one.
One day, Rogers announced that they were selling the phone for a cheap price with a plan.  To make a long story short, I got a 3-year contract and for the past year, I'm pretty happy with my phone.
A bunch of people have asked me if this phone has multi-touch.  This phone does not.  Multi-touch allows a screen to recognize more than one finger.  This is a feature that the iPhone and iPad is famous for.  Microsoft has also announced that their new Windows Mobile phones will support this feature.
The screen can slide open to reveal a keyboard.  I have mixed feelings towards it.  On the positive side, it benefits me because I am a fairly quick typist and a physical-button setup gives me a better feel of whatever I am typing.  On the negative side, if I need to enter something as simple as my name or a phone number, many apps do not have an onscreen keyboard.  I have to manually slide the screen out to type a few letters or numbers.  Although, the XE Currency app I use does have an onscreen keyboard and I wish more developers would do this.
Firmware Updates (or lack thereof…)
The only update I've installed was back in February when Rogers announced that dialing 911 will cause the phone to reboot if GPS and internet are enabled.  They sent messages to all HTC Dream customers about this and provided extra instructions on their website.
I backed up my data and contacts manually and ran the update.  Now my phone can dial 911 without rebooting.  Although, I didn't necessarily test that claim.
It wasn't until the HTC Nexus One was released to Canada in March that I realized that firmware updates stopped coming for this phone.  As of this post, I am using Android 1.5 and the latest is 2.2.
I still like my phone!
Despite the keyboard and the lack of firmware updates, I'm glad I made the purchase.  It was the cheapest of the 3G phones and I loved the Google integration.  In less than a few minutes, I was able to log in to my Google account and use my Gmail and other accounts.  I could even take the e-mails from my e-mail contacts and associate phone numbers with them.  I'm not a power user or a phone expert by any means.  I got a phone with a microSDHC reader (Max 16 GB), WiFi, GPS, real keyboard and a touchscreen.
Conclusion
Overall, I don't regret getting the HTC Dream, even if it is the first Android phone.  It feels awkward talking about my phone with other people, considering nearly everyone I know has either an iPhone, Blackberry, Sony Ericsson or Nokia.  With a crowded mobile market, phones are constantly changing and advertising campaigns continue to push specific models forward.  Some people have questioned the release of the iPhone 4 so soon after the 3GS was released.  So it's not necessarily HTC and Android who are leaving their phones behind.
When buying a phone, it's important to make sure it is a good brand and can serve your purpose for a long time.  There's always going to be another phone with something better and that's expected in a complicated phone market.
Notes
HTC Dream Photo by ebouquin – http://www.flickr.com/photos/ebouquin/3928624027/
Android is a trademark of Google Inc.